Custom-designed to provide the best possible fit and appearance, porcelain veneers are made of thin ceramic shells that are bonded to the front portion of the affected teeth with a durable cement. Porcelain dental veneers at I.Dentical – All About Your Smile can improve the appearance of cracks, chips, stains, worn-down or uneven teeth, and even some cases of teeth misalignment. With the experience and artistic eye of our cosmetic dentist, Dr. Rafael Yanez, he can help you improve the appearance of your teeth with beautiful, natural-looking results.
What Are the Pros and Cons of Porcelain Veneers?
Porcelain veneers can achieve a wide range of goals. They are used to enhance the aesthetics of each patient's smile, and they can be applied to one, several, or all of the teeth to address minor or major concerns. Some of the benefits porcelain veneers can achieve include:
Brighter tooth shade
Zero visible chips or cracks
More evenly spaced teeth
A more symmetrical smile
Improvement of discoloration or deep stains
Improvement in the appearance of gaps, spaces, and misalignment
This technique is a popular way to improve common cosmetic issues with the teeth, but it's not ideal for every person. If you have gum disease or dental concerns, these conditions should be addressed prior to considering a cosmetic treatment. It's also important to note that porcelain veneers are permanently affixed to the natural tooth, and they cannot be removed—only replaced. We offer a comprehensive range of options, and we will be happy to discuss all of your available choices during your free consultation.
Porcelain Veneers Before and After Photos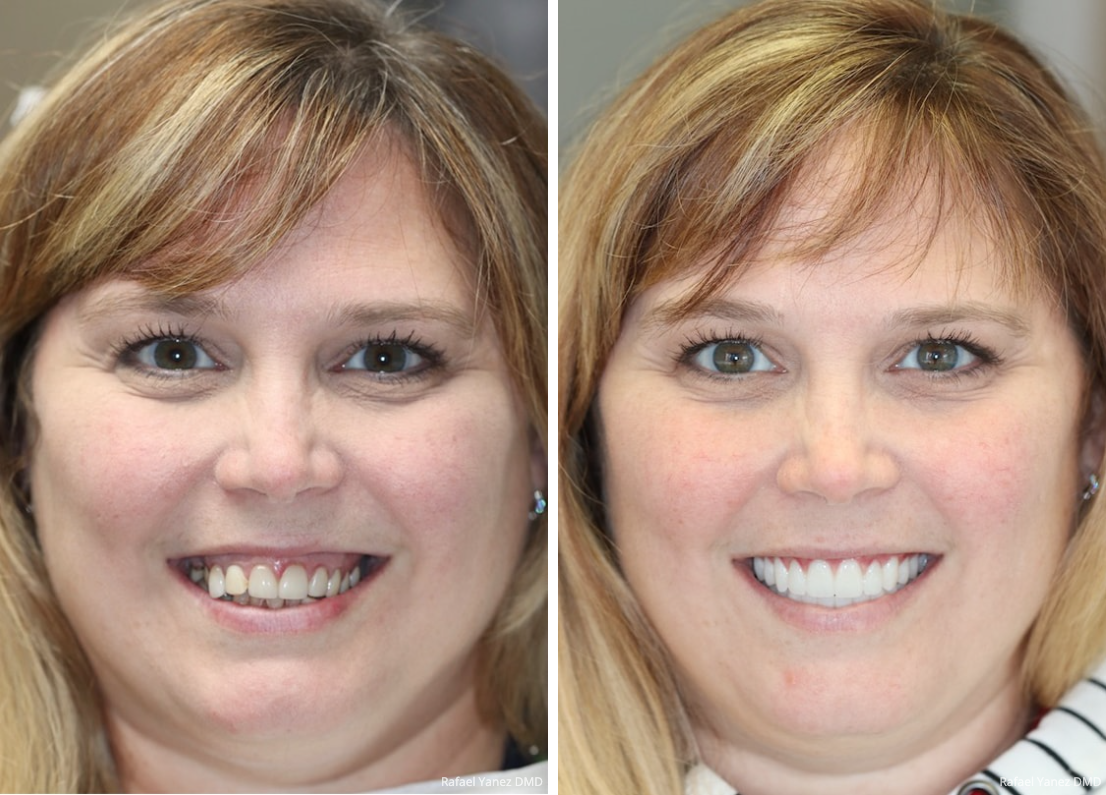 What Is the Procedure Like? 
During your initial consultation, you and Dr. Yanez will discuss your aesthetic concerns and how porcelain veneers may benefit you. If this treatment is ideal for your needs, Dr. Yanez will design a custom-tailored treatment plan. To prepare the tooth for the porcelain veneer, a very thin layer of the tooth's outer enamel may need to be removed; however, advances in cosmetic dentistry over the years have made it possible for very little of the original tooth structure to be removed or reshaped in these procedures. After taking a mold of your teeth, the impressions are sent to a lab where your veneers will be milled and ultimately matched to the shade of your natural teeth for a comfortable, natural, and precise fit. This procedure is typically completed in as little as two office visits.
What Kind of Results Can I Expect?
The materials used to create porcelain veneers are strong and durable. They can be cared for just like normal teeth. You should maintain your daily dental routine, including brushing and flossing, and also visit the dentist for twice-yearly exams. When cared for properly, porcelain veneers can last for decades and provide you with a brighter and more youthful smile.
How Much Do Porcelain Veneers Cost?
One of the many benefits of porcelain veneers is that they are fully customizable. Your treatment plan will be tailored to your needs and cosmetic goals. The price of porcelain veneers, therefore, will vary depending on the details of your plan. The number of veneers applied, the complexity of your case, and whether you choose to add other techniques will also be factors in the total cost. On average, porcelain veneers can cost anywhere from about $800 to around $2500 per tooth, depending on the material used and other factors. To help you make the best decision for yourself, we will go over the estimated cost of your individual plan during your initial consultation. We also work with reputable cosmetic dentistry financing lenders in the event you would like to consider a payment plan. We're here to help you make your smile dreams a reality, so please don't hesitate to ask questions or voice any concerns.
How Long Do Porcelain Veneers Last?
Porcelain veneers routinely last between 10-15 years, but your oral care plays an important role in this estimate. We use the best quality materials and our dental team is extensively trained to provide unparalleled treatment. You can help preserve your results by brushing and flossing regularly and scheduling regular checkups with your dentist. If you grind your teeth at night, we can create a mouthguard to protect your teeth from damage. Everyone's mouth and veneer experience is different, so your results may vary. We can guide you in getting the most out of your smile for as long as possible.
Do Porcelain Veneers Require Special Care or Maintenance?
Porcelain veneers generally require no special care; simply brush, floss, and complete regular cleanings as usual to protect your smile from decay and disease. We recommend not chewing or eating very hard objects, such as nut shells or bones, and not using your teeth to open packages. Veneers are less likely to stain than natural teeth, but it's still a good idea to brush your teeth after consuming foods or drinks that could discolor teeth, like wine, soda, and coffee. Additional recommendations will be provided during your initial visit, and you're welcome to call us with questions at any point.
What Are My Alternatives to Porcelain Veneers?
While porcelain veneers are generally the ideal solution for most aesthetic smile concerns, there may be certain instances in which a different treatment could be an effective alternative. For instance, if your sole issue is mild to moderate yellowing or discoloration, Zoom!® teeth whitening might be a suitable option for achieving a brighter, more brilliant smile. Another example would be if you wish to improve the alignment of your teeth. In this case, Invisalign® could be an appropriate alternative if you have significant overcrowding and/or an additional issue—such as an overbite—that can be addressed simultaneously. At the time of your consultation with Dr. Yanez, he can evaluate your unique needs and present all available treatments, helping you decide on the best option for your smile goals.
Additional Frequently Asked Questions About Veneers
Do porcelain veneers hurt?
Generally speaking, the veneers process is not considered painful. Some may experience mild discomfort when a small amount of enamel is removed; however, as stated earlier, modern cosmetic dentistry has made this a rare occurrence as there is usually little-to-no prep work required. If desired, your dentist may numb the general area to ensure a painless experience.
Can I get just one veneer or will I need a whole set of veneers?
Depending on your unique cosmetic goals and oral health needs, you may be best suited for one or multiple veneers. Dr. Yanez will thoroughly examine your mouth to determine the best course of action. If you choose to undergo a full smile makeover, Dr. Yanez may recommend multiple veneers to enhance your smile.
Does insurance cover porcelain veneers?
Since porcelain veneers are considered an elective cosmetic treatment, dental insurance typically does not cover the cost. However, if price is an issue, you may find dental financing to be an excellent solution. Our practice partners with CareCredit® and Lending Club, both of which offer low monthly payment plan options that can make porcelain veneers affordable for virtually any budget.
How strong are porcelain veneers?
Despite being so thin, porcelain veneers are incredibly durable and quite resistant to damage. Of course, you should always avoid bad habits like biting your nails, crunching on ice, and using your teeth to open various items, as these actions can lead to excessive wear and tear—potentially harming both the veneers and your natural teeth. Dr. Yanez also advises being cautious when eating certain foods that may contain hard pits, such as various cherries and olives.
How old do you have to be to get veneers?
Age is not considered a major factor in eligibility for veneers. Rather, Dr. Yanez will determine if you are a good candidate based on your overall oral health and concerns. Generally speaking, Dr. Yanez usually requires candidates to have fully developed gums, jaw bone, and teeth before receiving veneers. With that said, teenage patients typically have to wait until they are 16 to 18 years old to be considered eligible candidates.
What determines the color of my veneers?
At our practice, veneers are designed to emulate your natural teeth in function and appearance. After the initial mold is taken, Dr. Yanez will determine the color of your veneers based on the shade of your natural teeth before creating them with our advanced milling technology. Rest assured that Dr. Yanez has years of experience choosing veneers that bring out the beauty in each smile.
Do porcelain veneers stain?
Porcelain veneers have a non-porous composition and are therefore not susceptible to staining like natural tooth enamel. You should be able to enjoy the desired shade of your veneers for the entirety of their lifetime!
Can veneers be whitened?
There are no teeth whitening systems available today that have the capability of whitening porcelain veneers. As a result, if you are not receiving a full set of veneers to cover all visible teeth, it is important to make sure you are pleased with the current shade of your natural teeth prior to treatment, as your porcelain veneers will be matched to this color to create a uniform appearance. In the event you are not happy with the shade of your natural teeth, Dr. Yanez may recommend teeth whitening before the placement of your veneers. Once your veneers are secured, the only way to whiten them is to receive new veneers.
Will porcelain veneers change the way I talk?
Because porcelain veneers are meant to look and feel as natural as possible, veneers properly placed by a highly-qualified cosmetic dentist should not affect your speech. It is important to note, however, that it may take two to three weeks for you to adjust to your new veneers, but it should not change the way you talk. Once you have gotten used to your new veneers, it should feel completely natural to eat and speak as usual.
Are porcelain veneers reversible?
Porcelain veneers are not reversible as a result of the thin enamel layer that is removed prior to their placement. That said, this is rarely an issue due to how happy patients are with their new smile following treatment.
For more information about porcelain veneers, or to schedule a complimentary consultation, please contact us at (215) 923-2233.