A full set of dental implants is just one way to address all missing teeth on the upper arch, lower arch, or both. All-on-4™ is another popular option, one that is often more affordable yet still retains many of the benefits of a full set of dental implants. This innovative technique may be able to help restore your smile and your confidence.
What Is All-on-4™?
All-on-4™ is a full-arch restoration technique that uses a small number of dental implants to replace an entire row of missing and/or damaged teeth. In this approach, approximately four implants are utilized to anchor a special type of denture, creating a more comfortable and secure fit than a traditional removable denture. Since fewer dental implants are used, recovery is often quicker as compared to a full set of dental implants. Dr. Rafael Yanez, one of the top dentists in Philadelphia, can determine if this procedure is right for you. Ideal candidates will have sufficient jawbone strength and density, be in good overall health, and have reasonable expectations for results. Dr. Yanez will discuss other pertinent factors during your initial consultation, as well as develop a customized treatment plan based on your oral needs and cosmetic goals.
What Are the Benefits of All-on-4™?
All-on-4™ is a revolutionary procedure that offers patients a wide range of benefits. Some of the potential advantages of choosing All-on-4™ include:
Less downtime compared with a full set of dental implants, in many cases
Lower cost than a full set of dental implants
Preservation of jawbone density
Beautiful, natural-looking results
Long-lasting outcome
Custom fit that's secure and comfortable
Same maintenance as natural teeth
Additional benefits may include restored confidence once you have a working smile again, as well as the boost in well-being that comes with being able to eat all your favorite foods without worrying about a slippery or uncomfortable denture.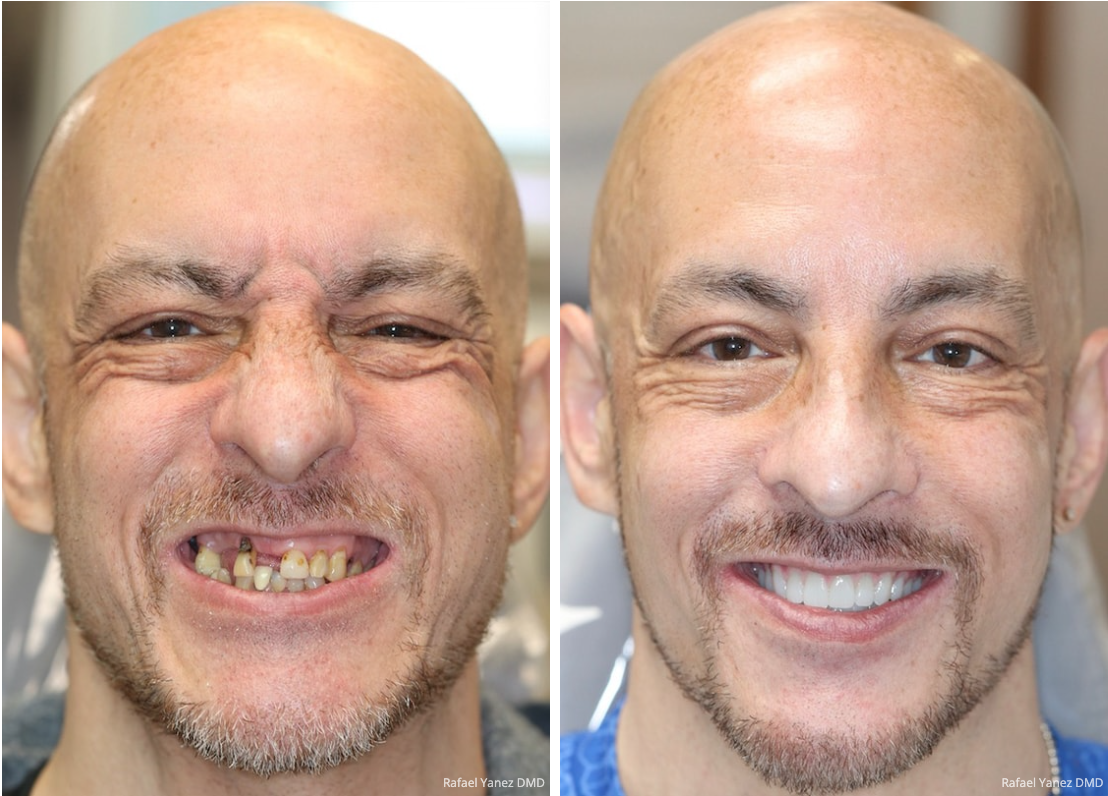 All-on-4™ vs. Traditional Dentures
The general consensus in the dental world is that All-on-4™ can be an optimal choice for full mouth or single arch restoration. While traditional dentures may be ideal for some patients, All-on-4™ is a minimally invasive procedure that can offer a more permanent solution to missing teeth. Because All-on-4™ involves four titanium implants to secure the dentures, no messy adhesives are required, as in the case of traditional dentures. In addition, traditional dentures are known to sometimes wear down on the jawbone due to the way they rest in the mouth, whereas All-on-4™ has the advantage of preserving jawbone health. Dr. Yanez will be glad to discuss these options further at your consultation.
What Should I Expect During the All-on-4™ Procedure?
You can get a good idea of what to expect during the All-on-4™ procedure by reviewing our dental implants page. In general, the initial consultation will begin with an oral health evaluation, followed by the development of a customized treatment plan. Once Dr. Yanez has identified the ideal placement for the dental implants, and how many may be used (typically between four and six per arch), he will place the implants. Dr. Yanez has extensive training in dental implantation, allowing you peace of mind during your procedure. The same day the implants are placed, your implant-supported denture fabricated in our on-site dental lab can be fitted. For a short period in the beginning, you may need to follow some moderate dietary restrictions to allow the implants to heal optimally. After a few months, you should be able to return to your typical meal plan. Other instructions for care while recovering will be provided by Dr. Yanez during your appointment. If you have questions between visits, you are always welcome to reach out to our team for more information. We're here to help, and your happiness is very important to us.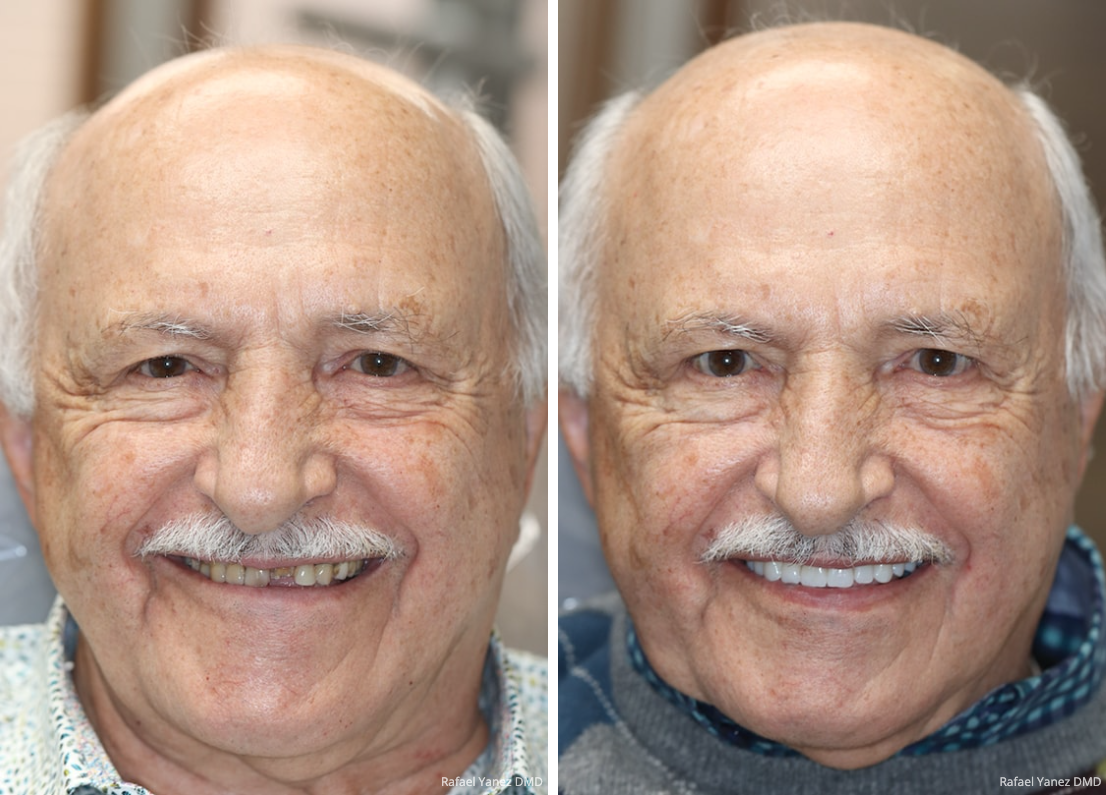 How Do I Clean and Care for All-on-4™ Implant Dentures?
Just as you would your natural teeth, it is important to properly clean and care for your All-on-4™ implant dentures to help ensure proper function, lasting results, and optimal oral wellness. Fortunately, a normal oral hygiene routine of brushing and flossing at least twice per day is typically all that's required for at-home care of your All-on-4™ implant dentures. That said, you will still need to schedule regular dental visits to receive professional cleanings and to make sure your restoration and oral health are in good condition.
In addition to daily cleaning, Dr. Yanez advises exercising caution when eating certain foods and avoiding particular habits that tend to damage even natural teeth. This includes biting down on fruits that may contain a hard pit—such as some olive and cherry varieties—as well as chewing ice, fingernail biting, and using the teeth as a tool to tear or open something. If you have a habit of teeth grinding or clenching at night, Dr. Yanez may also recommend wearing a night guard while sleeping to help prevent excessive wear and tear or undue pressure.
Ultimately, Dr. Yanez will provide personalized details on the best ways to clean and care for your All-on-4™ implant dentures after reviewing your unique case and developing a customized treatment plan.
What Is the All-on-4™ Recovery Process Like?
The All-on-4™ recovery process is generally quite straightforward. You can expect any bleeding to fully stop within 24 hours. Some degree of soreness may occur in the days immediately following the procedure, but this can be easily managed with over-the-counter pain medication. Dr. Yanez may also prescribe antibiotics if necessary, and will provide more detailed post-operative instructions after treatment.
How Long Does All-on-4™ Last?
All-on-4™ full-arch restorations can last many years—if not a lifetime—when properly designed, created, placed, and cared for. As previously mentioned, appropriate care typically includes brushing and flossing at least twice daily, as well as receiving professional exams and cleanings on a regular basis. In the event a new restoration is eventually needed, it is unlikely that the actual dental implants will require replacement—once fused to the jawbone, they usually become a permanent part of the mouth. As a result, only the denture will likely need to be replaced, which eliminates the surgical aspect of treatment.
How Much Does All-on-4™ Cost?
The most important aspect of the procedure is providing you with exceptional care personalized to your needs and goals. As a result, the price for All-on-4™ will vary depending on an individual's treatment plan. Dental implants typically cost between $1,000 and $4,000 each, plus the cost of the restoration. Since far fewer implants are used than with a full set, there can be substantial savings for the patient. That said, we understand this is a significant investment in the health and beauty of your smile, and we want to make payment as easy and convenient as possible. We are in-network with most dental insurance companies, and we work with reputable dental financing options as well. Talk to us about your concerns and we will do our best to help you find a solution that suits you and your budget.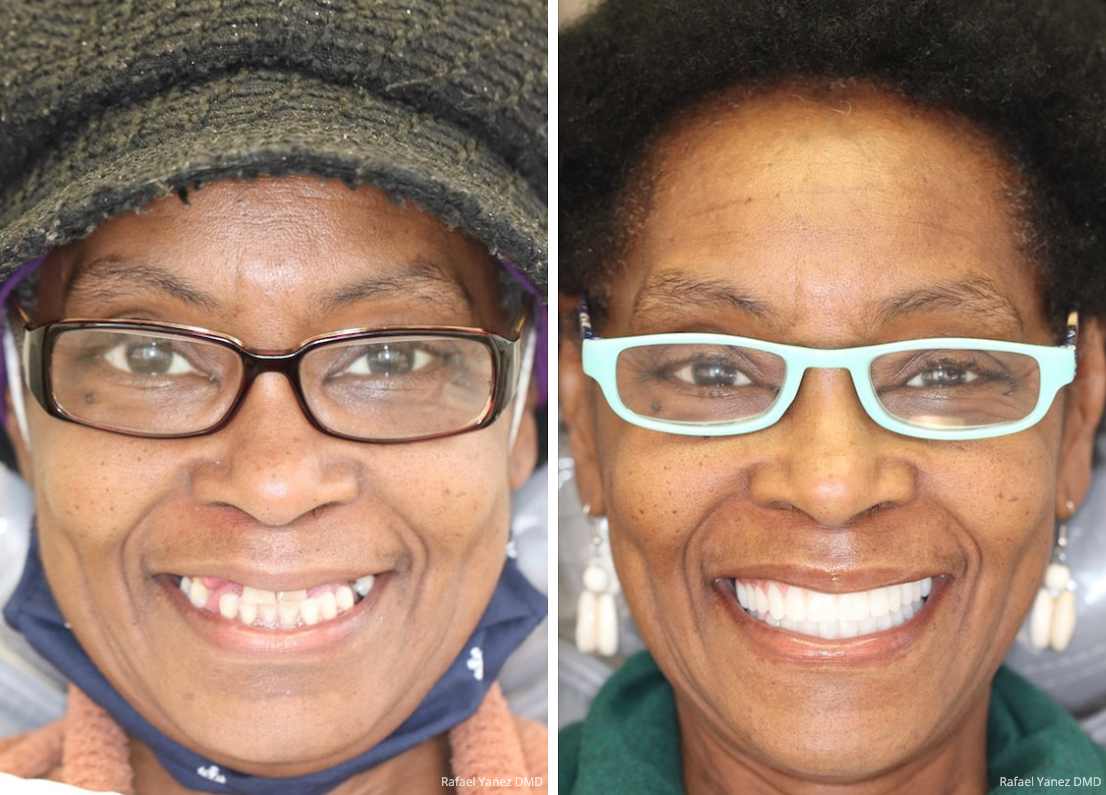 Find out more about All-on-4™ today. Contact us online or call our office with questions and to schedule a consultation.