A full set of dental implants is just one way to address all missing teeth on the upper arch, lower arch, or both. All-on-4™ is another popular option, one that is often more affordable yet still retains many of the benefits of a full set of dental implants. This innovative technique may be able to help restore your smile and your confidence.
What is All-on-4™?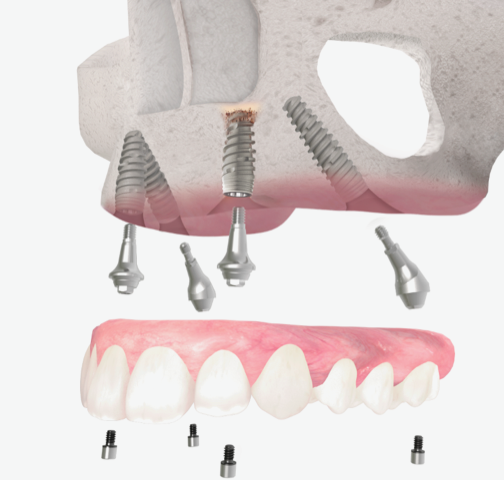 All-on-4™ uses a small number of dental implants. In this approach, approximately four implants are used to anchor a special type of denture, creating a more comfortable and secure fit than a traditional removable denture. Since fewer dental implants are used, recovery is often quicker as compared to a full set of dental implants. Dr. Rafael Yanez, one of the top dentists in Philadelphia, can determine if this procedure is right for you. Ideal candidates will have sufficient jawbone strength and density, be in good overall health, and have reasonable expectations for results. Dr. Yanez will discuss other pertinent factors during your initial consultation, as well as develop a customized treatment plan based on your oral needs and cosmetic goals.
Benefits of All-on-4™
All-on-4™ is a revolutionary procedure that offers patients a wide range of benefits. Some of the potential advantages of choosing All-on-4™ include:
Less downtime compared with a full set of dental implants, in many cases
Lower cost than a full set of dental implants
Preservation of jawbone density
Beautiful, natural-looking results
Long-lasting outcome
Custom fit that's secure and comfortable
Same maintenance as natural teeth
Additional benefits may include restored confidence once you have a working smile again, as well as the boost in well-being that comes with being able to eat all your favorite foods without worrying about a slippery or uncomfortable denture.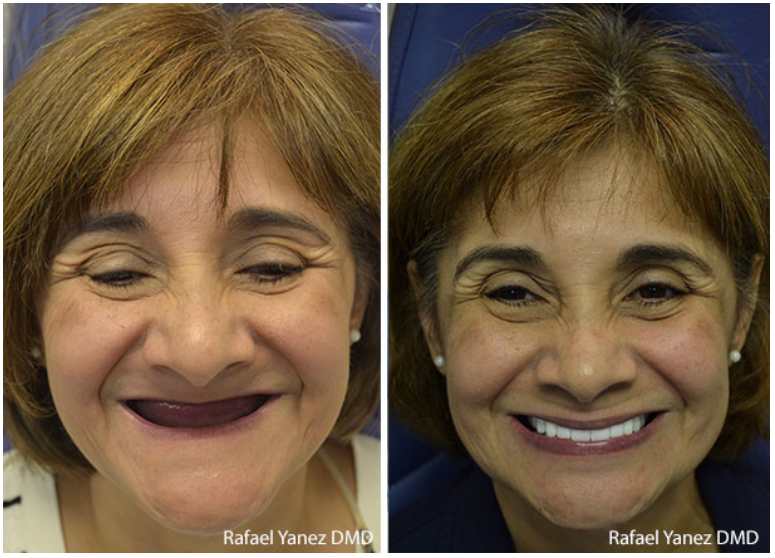 What to Expect During the All-on-4™ Procedure
You can get a good idea of what to expect during the All-on-4™ procedure by reviewing our dental implants page. In general, the initial consultation will begin with an oral health evaluation, followed by the development of a customized treatment plan. Once Dr. Yanez has identified the ideal placement for the dental implants, and how many may be used (typically between four and six per arch), he will place the implants. Dr. Yanez has extensive training in dental implantation, allowing you peace of mind during your procedure. The same day the implants are placed your implant-supported appliance fabricated in our office can be fitted. For a short period in the beginning, you may need to follow some moderate dietary restrictions to allow the implants to heal optimally. After a few months, you should be able to return to your typical meal plan. Other instructions for care while recovering will be provided by Dr. Yanez during your appointment. If you have questions between visits, you are always welcome to reach out to our team for more information. We're here to help, and your happiness is very important to us.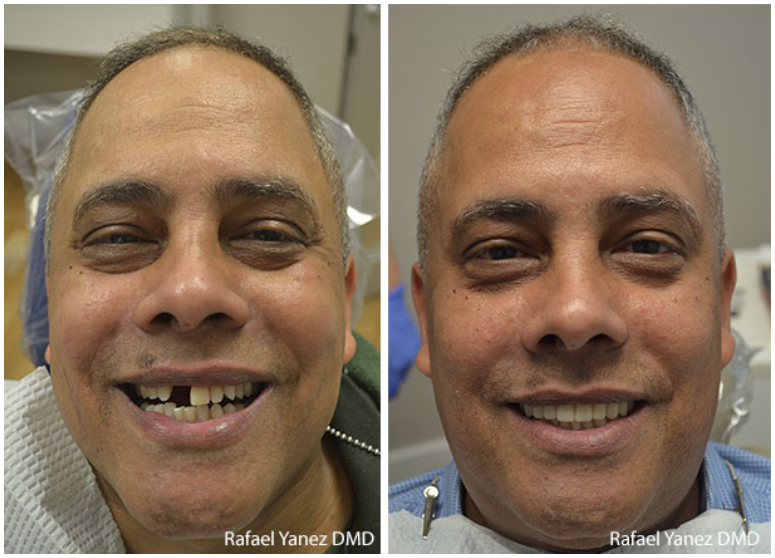 How much does All-on-4™ cost?
The most important aspect of the procedure is providing you with exceptional care personalized to your needs and goals. As a result, the price for All-on-4™ will vary depending on an individual's treatment plan. Dental implants typically cost between $1,000 and $4,000 each, plus the cost of the restoration. Since far fewer implants are used than with a full set, there can be substantial savings for the patient. That said, we understand this is a significant investment in the health and beauty of your smile, and we want to make payment as easy and convenient as possible. We are in-network with most dental insurance companies, and we work with reputable dental financing options as well. Talk to us about your concerns and we will do our best to help you find a solution that suits you and your budget.
Find out more about All-on-4™ today. Call our office with questions and to schedule a consultation.