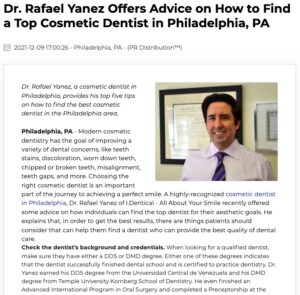 Dr. Rafael Yanez, a cosmetic dentist in Philadelphia, provides his top five tips on how to find the best cosmetic dentist in the Philadelphia area.
Philadelphia, PA – Modern cosmetic dentistry has the goal of improving a variety of dental concerns, like teeth stains, discoloration, worn down teeth, chipped or broken teeth, misalignment, teeth gaps, and more. Choosing the right cosmetic dentist is an important part of the journey to achieving a perfect smile. A highly-recognized cosmetic dentist in Philadelphia, Dr. Rafael Yanez of I.Dentical – All About Your Smile recently offered some advice on how individuals can find the top dentist for their aesthetic goals. He explains that, in order to get the best results, there are things patients should consider that can help them find a dentist who can provide the best quality of dental care.
Check the dentist's background and credentials. When looking for a qualified dentist, make sure they have either a DDS or DMD degree. Either one of these degrees indicates that the dentist successfully finished dental school and is certified to practice dentistry. Dr. Yanez earned his DDS degree from the Universidad Central de Venezuela and his DMD degree from Temple University Kornberg School of Dentistry. He even finished an Advanced International Program in Oral Surgery and completed a Preceptorship at the University of Texas School of Dentistry at Houston. "I have always been committed to continuing my dental education since the industry is ever-evolving," says Dr. Yanez.
See what dental services they provide. Patients should make sure that the dental office they are inquiring about offers the services they need, whether it be for cosmetic, restorative, or preventive dental care. "The great thing about my practice is that I provide a wide range of dental solutions, including dental implants, porcelain veneers, periodontal care, and more," says Dr. Yanez.
Look at patient ratings and reviews. Patients can gain more insight into a dentist and their practice by reading reviews, ratings, and testimonials. "My team loves seeing 5-star reviews and ratings from patients. We want everyone to know that we provide top-quality dental care," says Dr. Yanez.
Explore before-and-after photos. Most dentists provide before-and-after photos either online or in-person during a consultation. Viewing these photos is a great way to see potential results that the dentist can achieve.
Schedule a consultation. "Booking a consultation is easy. Most of my patients just typed 'cosmetic dentist Philadelphia' into Google and got our contact information from there," says Dr. Yanez. An in-person meeting with a potential dentist allows the patient to have an open discussion about treatments. Any questions and concerns can be addressed right away in a face-to-face setting. Patients can also get a better feel of the practice and see if the dental office is up to their standards in terms of safety and cleanliness. "Our practice specifically complies with the recommendations created by the American Dental Association and the Centers for Disease Control," says Dr. Yanez.
Every patient wants a dentist that can carefully listen to their needs and achieve optimal results. As a top dentist in Philadelphia, Dr. Yanez says he strives to provide the highest quality of dental care by using the most advanced techniques and technologies. Dr. Yanez encourages every patient to follow his tips for finding a dentist who is the right fit for them.
About Dr. Rafael Yanez
Dr. Rafael Yanez received his Doctor of Dental Medicine degree at the renowned Temple University Kornberg School of Dentistry and his Doctor of Dental Surgery degree at the Universidad Central de Venezuela. He understands the importance of continuing education and has even completed a Preceptorship at the University of Texas School of Dentistry in Houston. In addition, Dr. Yanez completed an Advanced International Program in Oral Surgery at the New York University College of Dentistry. At his practice, he provides a variety of dental solutions, including porcelain veneers, dental implants, All-on-4®, Invisalign®, and more. Dr. Yanez is an active member of many professional organizations, including the American Dental Association, Pennsylvania Dental Association, International Congress of Oral Implantologists, International Academy of Facial Aesthetics, and International Dental Implant Association. He is available for interview upon request.
To learn more, visit dentist-philadelphia.com and facebook.com/I.DenticalPhiladelphia.
Contact:
I.Dentical – All About Your Smile
200 Walnut St.
Philadelphia, PA 19106
(215) 923-2233
Rosemont Media
(800) 491-8623
www.rosemontmedia.com
Contact Our Practice