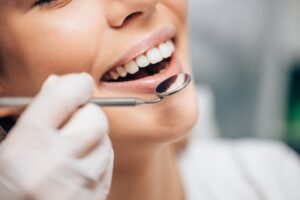 Traditional braces are known for correcting crowded or crooked teeth; however, there are alternative dental solutions that many people are not familiar with. Our highly-experienced cosmetic dentist in Philadelphia offers porcelain veneers and Invisalign® as alternatives to metal braces. Whether you need help with crooked, crowded, or gapped teeth, our team can help you find the optimal dental solution that can provide stunning, natural-looking results.
In particular, porcelain veneers have proven to give the teeth a straighter appearance while providing many other aesthetic benefits. Veneers are thin shells of porcelain that are customized to fit on the front surface of a tooth. Instead of repositioning the teeth to the desired position, veneers can conceal a variety of dental concerns, including:
Gaps between teeth
Slightly crooked teeth
Chipped or broken teeth
Tooth stains or discoloration
Uneven, misshapen teeth
One of the key benefits of receiving porcelain veneers is that patients do not have to commit to a lengthy orthodontic process. In a shorter time span, patients can restore their smile with porcelain veneers.
Another teeth-straightening option for patients is Invisalign®. Individuals with the following dental problems are usually good candidates for treatment:
Crooked teeth
Gaps between teeth
Crowded teeth
Overbite
Underbite
Crossbite
Open bite (when the upper and lower teeth don't meet)
Throughout the process, patients must wear clear, removable aligners that gradually straighten the teeth. Since no metal brackets or wires are necessary, many patients report that Invisalign® is more comfortable to wear in comparison to traditional braces. For a virtually invisible solution to straightening teeth, we often recommend Invisalign® clear aligners.
When it comes to your smile, we want to help find the ideal dental solution for your goals. Contact us today if you have any questions, or if you would like to learn more about porcelain veneers or Invisalign®. We can also help you schedule an appointment when you are ready.
Contact Our Practice