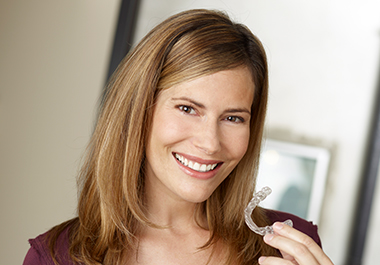 Invisalign® offers a revolutionary way to straighten crooked teeth and improve the look of your smile. Many of our patients at I.Dentical – All About Your Smile desire straighter teeth and a more even smile; however, they do not want the inconvenience, discomfort, or distracting appearance that can be associated with traditional metal braces. Using a system of clear plastic aligners, Invisalign® is an innovative cosmetic dentistry treatment that can gently guide your teeth into their ideal position in a manner that is comfortable, easy to maintain, and inconspicuous. With just a quick consultation and an oral exam, our experienced cosmetic dentist—Dr. Rafael Yanez—can determine if you are a good candidate for Invisalign®.
What Smile Concerns Can Invisalign® Treat?
Invisalign® clear braces can be custom-designed to:
Close gaps and spaces between teeth
Rotate and/or realign crooked teeth
Resolve bite issues such as overbites, underbites, and crossbites
Depending on your unique needs, Dr. Yanez can develop a personalized treatment plan to discreetly and conveniently address your specific concerns, ultimately resulting in a beautiful smile you are proud to put on display.
Invisalign® vs. Braces
In comparison to metal braces and other conventional orthodontic systems, Invisalign® offers numerous advantages to qualified candidates, some of which may include:
A virtually invisible appearance—the aligners are transparent
Enhanced comfort—there are no brackets or wires that can nick and/or irritate soft tissues of the mouth
Improved convenience—the aligners can be taken out to eat, drink, and perform normal oral hygiene routines
Limited checkups—fewer office visits are generally needed for treatment monitoring
Quicker treatment—on average, final results are achieved in less time
Overall, Invisalign® has helped numerous patients achieve straight, beautiful smiles in a more discreet, comfortable, and less restrictive manner than is typically possible with traditional braces.
What Is Invisalign® Teen?
Invisalign® Teen follows the same model of the standard Invisalign® system. Your teen will have to wear a series of clear, BPA-free, removable aligners to properly shift the teeth into the ideal placements. Every two weeks or so, your teen will receive a new set of aligners to wear. The aligners should be worn at all times, unless your teen is brushing, flossing, eating, or drinking. Not wearing the aligners as often as directed can result in a longer treatment time, affecting how fast your teen can reach their smile goals. Overall, it usually takes 9 to 15 months for the teeth to straighten into the desired position. Invisalign® Teen can be a great alternative to traditional braces for teenage and adolescent patients who want a faster, more comfortable, and more discreet teeth straightening solution.
Invisalign® Before and After Photos
Dr. Yanez has used Invisalign® to help numerous patients achieve their smile goals. Below are a few before-and-after pictures of actual Invisalign® patients at our practice. To see more images of Dr. Yanez's patients who have benefited from this treatment, we welcome you to visit our Smile Gallery.



Enhanced Treatment Planning with the iTero® Element™ Intraoral Scanner
To provide the best care possible, our practice uses the iTero® Element™ digital scanner to help plan Invisalign® treatments. This state-of-the-art device makes taking impressions a faster, more comfortable, and more effective experience. Gone are the messy, unpleasant traditional mold impressions. Now our skilled team can scan your oral structures in as little as two and a half minutes, develop your treatment plan, and display the three-dimensional simulated result on a screen, right from the chair. iTero® offers a number of additional benefits, including more accurate results, leading to shorter appointments and eliminating the need for refittings. Luxury, precision, reliability, and comfort are combined in this elegant system, and we hope you enjoy the improved experience the iTero® can achieve.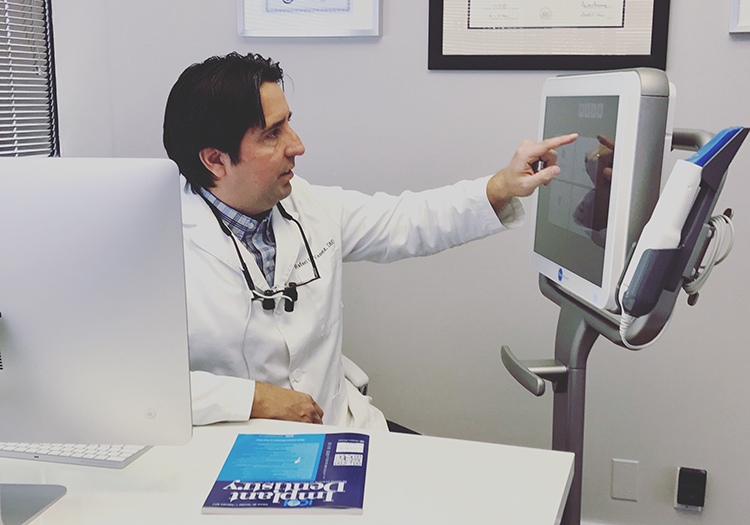 What Is the Invisalign® Process Like?
Each Invisalign® treatment is custom-designed to meet your unique needs. Using impressions of your teeth, a system of clear plastic aligners is created for a fit that is precise and comfortable. Nearly invisible when worn, these aligners should remain in place for about 20–22 hours a day—though they can be removed when eating, brushing, flossing, and for easy maintenance. After wearing one set of aligners for approximately two weeks, you will advance to the next set. With each set of aligners, your teeth will be moved closer toward their final position until the desired result is achieved.
Throughout the Invisalign® process, you will be instructed to come back to our office on occasion for check-in visits with Dr. Yanez, which enable him to assess your progress and provide you with your next set of aligners. The exact number of return visits will depend on the specifics of your treatment plan, though the total amount is often less than what is typically required for traditional braces.
How Long Does Invisalign® Take?
The Invisalign® system typically takes about 9–15 months to complete, depending on the extent of treatment necessary to achieve the best possible results for your needs. Along with the degree of correction needed, a key factor impacting total treatment time is how often you wear your aligners—the more closely you follow Dr. Yanez's specific instructions for aligner-wear, the more quickly and efficiently your Invisalign® treatment can be completed.
Does Invisalign® Hurt?
The Invisalign® system is considered more comfortable than traditional braces because there are no metal brackets or wires pushing against the soft tissues of the mouth. In addition, there are no "tightening" adjustments needed for Invisalign®, which is oftentimes a source of discomfort for individuals with regular braces. There may be some pressure as you get used to your new aligners or subsequent aligners, but the majority of patients do not describe the process as painful. Any soreness is usually an indication that the Invisalign® system is working and moving the teeth into the proper position. Over-the-counter pain medications can help patients manage any pain or discomfort that they may feel during treatment.
How Do I Clean & Care for My Invisalign® Aligners?
To properly clean and care for your Invisalign® aligners, Dr. Yanez advises rinsing them with lukewarm water a minimum of two times daily, as well as brushing them gently with a soft-bristled toothbrush and antibacterial dish soap or hand soap at least once per day.* Furthermore, you should remove your Invisalign® trays to eat or drink anything other than water, and make sure to brush your teeth and floss prior to returning them to your mouth. By following these recommendations, you can help prevent your Invisalign® aligners from discoloring, ensuring they remain clear and in excellent condition during use.
*Do not rinse your Invisalign® trays with hot water, as the plastic can become distorted under high temperatures. Also, never use abrasive cleaning products—including most toothpastes—to sanitize your aligners, as these can create tiny scratches in which harmful bacteria may become trapped.
How Much Does Invisalign® Cost?
Capable of greater discretion and comfort than metal braces, Invisalign® is one of the most innovative ways to straighten teeth. Available from our experienced dentist, Invisalign® can address a wide range of misalignment concerns, from overbites to crowded teeth and much more. Invisalign® is often comparable in price to traditional orthodontic appliances, and it can be an excellent investment in the appearance of your smile and the function of your teeth.

The cost of Invisalign® will vary depending on your unique needs and goals, as the teeth-straightening process is fully customized from start to finish. When you arrive for your complimentary initial consultation, Dr. Yanez will discuss with you all the pertinent information you need to make an informed decision about Invisalign®. In addition to what to expect and how long the process could take, he and our skilled team will talk about your individual treatment fees. Invisalign®, like braces, typically costs a few to several thousand dollars. To help minimize your personal expenses, we are happy to work with your dental insurance provider to determine if you have coverage for this procedure. Furthermore, we offer a wide range of payment options and financing plans that can help bring Invisalign® into your budget. For individuals who prefer to pay over time in monthly installments, CareCredit®, Lending Club, and Proceed Finance provide eligible applicants with excellent rates and appealing terms, including true no-interest packages.
How Do I Choose the Best Invisalign® Doctor?
Finding a highly-qualified doctor is an important step in the Invisalign® process. We recommend doing some research on your potential Invisalign® provider to help ensure that they are the best choice for you. Here are a few things to consider when looking for the right doctor for treatment:
Doctor's Training and Experience. We advise looking at your doctor's education, credentials, and experience, making sure that they are skilled and a Certified Invisalign® Premier Provider like Dr. Yanez.
Before-and-After Photos. Viewing before-and-after photos from previous patients can help you get a better idea of the results that can be achieved with Invisalign®.
Online Reviews. Reading patient testimonials and online reviews can give insight to patient satisfaction with their treatment experience and final outcomes.
In-Person Consultation. Meeting an Invisalign® doctor in person gives you the opportunity to discuss and ask questions face-to-face with your potential provider. This can be a great time to ensure that you feel comfortable in their care and confident in their ability to achieve the results you desire.
Getting as much information as you can about a potential Invisalign® provider can be the best way to find the ideal doctor for you. Overall, it is important to pick a provider that you trust before committing to any orthodontic treatment.
Are There Alternatives to Invisalign®?
At our practice, Dr. Yanez offers porcelain veneers, which could be a suitable alternative to Invisalign® depending on your unique needs and goals. Sometimes referred to as "instant orthodontics," porcelain veneers are custom-designed and carefully placed on the front surface of teeth to conceal gaps and minor misalignments, ultimately creating the appearance of a straight, beautiful smile with long-lasting results. It should be noted, however, that porcelain veneers are typically only appropriate as an alternative to Invisalign® when the issues being addressed are entirely cosmetic in nature.
If you would like to learn more about straightening your teeth with Invisalign®, or to schedule a complimentary consultation, please contact our office today at (215) 923-2233.