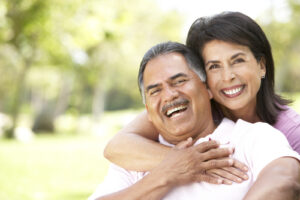 Going well beyond a more aesthetically appealing smile, dental implants offer abundant benefits for patients who have one or more missing teeth. Dentist, Dr. Rafael Yanez, utilizes some of the most advanced techniques and highest-quality materials available to help individuals achieve the smile of their dreams. Too often, however, people assume this restorative treatment is primarily cosmetic in nature. The truth is, dental implants can provide many functional advantages as well.
The loss of one or more teeth can have a significant impact on the way someone speaks as well as on their ability to eat comfortably. Additionally, the jawbone can lose strength and density over time if teeth are missing, which may lead to changes in face shape. Dental implants can address all these concerns while typically only requiring the same level of maintenance as natural teeth—normal brushing and flossing and regular checkups. Bridges and partial or full dentures can be a good choice for many people, but others have reported that dental implants are more comfortable, have a more natural-looking appearance, and are incredibly durable.
Everyone's needs and goals are unique, which is why Dr. Yanez offers a comprehensive selection of restorative options to address missing and damaged teeth. During your initial consultation, Dr. Yanez will discuss your goals and determine if dental implants or another procedure will be right for you.
Contact Our Practice