Tooth loss is a common problem that many people experience. Fortunately, there are a multitude of restorative dental options available to help restore your smile and give your confidence and comfort while eating, speaking, and enjoying your life. Two of the most popular treatments for significant tooth loss are dentures and implant-supported dentures.
Dentures
If you are missing a number of teeth, Dr. Rafael Yanez can use dentures to restore functionality to your bite and fill in the gaps in your smile. Dentures are made from durable materials and are crafted to resemble your natural teeth. These removable dental appliances are also designed to maximize your comfort when worn and improve your ability to chew and speak.
Dentures can often serve as a suitable alternative for patients who may not be candidates for dental implants. Depending upon your individual circumstances, a complete or partial denture will be crafted. A complete denture is used to replace an entire row of missing teeth. A partial denture is used when only some teeth need to be replaced. In addition to improving the look and function of your smile, a partial denture can prevent adjacent teeth from shifting and reduce the risk of further dental complications. Whether you are in need of a partial denture or full dentures, our patients at I.Dentical – All About Your Smile often report a higher quality of life with these custom-made teeth replacements.
The Dentures Procedure
To create a custom denture that is easy to wear, the process may take a few appointments over the course of a few weeks. Dr. Yanez will take impressions and measurements of your mouth so the denture can be fitted with the highest degree of precision. You will have comprehensive fittings to ensure that your denture remains comfortably and naturally in place.
The Results of Dentures
During the first few days of wearing your new dentures, you may experience increased saliva flow, some difficulty chewing or speaking, or mild soreness. However, as you adjust to your new dentures, these reactions should quickly subside. Dentures require proper cleaning, good oral hygiene, and regular checkups with a dentist to help ensure your dentures are functioning at their best. Dr. Yanez will provide you with instructions on how to properly care for your dentures so they can last for years to come.
Implant-Supported Dentures
Many patients who are missing most or all of their teeth often use traditional removable dentures to restore their smiles. While effective, many people find these dental devices uncomfortable, ill-fitting, high-maintenance, and/or unnatural in appearance. Many individuals using this type of denture have reported a lack of confidence about their smile. Implant-supported dentures from Dr. Yanez can address these concerns. This innovative approach to tooth replacement uses a number of implants to secure a denture to the upper or lower jaw, or both, as needed. Implant-supported dentures offer a more affordable option than a full set of dental implants, and this procedure can also provide the strength, comfort, durability, and aesthetics many patients desire.
Implant-supported dentures can be an excellent option for many patients, but this procedure is not appropriate for everyone. Dr. Yanez is a Fellow of the International Congress of Oral Implantologists, and he will evaluate your teeth and oral structures to determine if you have the bone density needed for optimal results. It's also important to be free of infection and in good general health. If he finds that you have insufficient bone mass, you may still have a number of appealing restorative techniques. Dr. Yanez can discuss the best choices for your unique needs and goals during your initial consultation.
The Implant-Supported Denture Procedure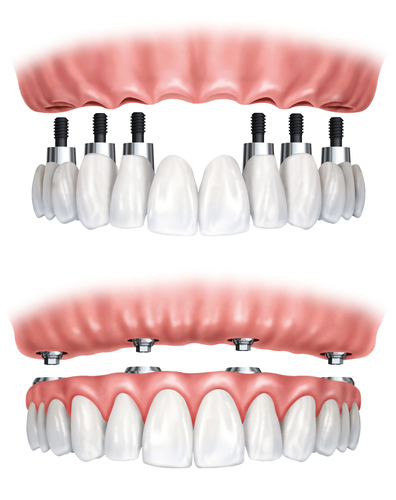 A customizable procedure, implant-supported dentures can be tailored to suit your anatomic needs and desired results. Unlike a full set of dental implants, implant-supported dentures use only a few implants to anchor the dental appliance in place. Some patients can use as few as four implants for this procedure, a technique known as All-on-4™.  Dental implants, whether you're having one, four, or a full set, are placed the same way. A precise treatment plan will be developed that determines where exactly the best location for each implant will be. The titanium posts are then secured through the gumline and into the sturdy jawbone below. Once the bone has healed and grown strong around the implants, the dental appliance can be attached. A temporary dental appliance will be used during the recovery period, so you will never be without a functioning set of teeth.
Results of Implant-Supported Dentures
Once the implant-supported denture is in place, you should be able to eat, drink, and speak with comfort and confidence. No more slipping appliances, no more uncomfortable rubbing, all while enjoying many of your favorite foods. Excellent oral hygiene is still necessary to keep your smile looking its best. However, unlike traditional dentures, brushing, flossing, and regular dental check-ups should be sufficient normal care.
Learn More About Missing Teeth Replacement Options
Dr. Yanez offers a range of advanced techniques to restore your smile. He has answered some of the most commonly asked questions about dentures and implant-supported dentures below. For additional information, we hope you'll reach out to our friendly and knowledgeable team.
Are dentures or implant-supported dentures the better choice?
This is highly subjective and will depend on many factors unique to you. Your oral health, lifestyle, budget, and other considerations should be weighed to determine which option best suits your needs and goals. Dr. Yanez can provide guidance to help you decide on which method to use, but ultimately the choice is up to you. In some cases, implant-supported dentures may not be the best choice if you have insufficient jawbone density or if you have gum disease. Of course, we can provide treatment to improve your oral health if required.
Which one is more comfortable?
Most patients find implant-supported dentures to be the more comfortable of the two options. This is because they are secured to the jawbone, so the denture cannot slip or move around easily. As a result, soreness is minimized and confidence in speaking, smiling, and eating is often increased. Dr. Yanez makes every effort to provide a precise and comfortable fit with dentures as well as implant-supported dentures; however, broadly speaking, many people report that implants offer enhanced satisfaction in this regard.
Which one is more affordable?
Both dentures and implant-supported dentures are a more affordable option than a full set of dental implants. Between implant-supported and traditional dentures, removable dentures are the more cost-effective of the two. We understand budget is an important consideration for many individuals, and we will work with you to find a treatment that can fit within your lifestyle. That said, cost should not be the only, or even the most important, factor in making your decision. Our financing resources can help bring your treatment into your range if you prefer to pay over time rather than in one lump sum.
How do you care for dentures? How do you care for implant-supported dentures?
Implant-supported dentures require the same upkeep as your natural teeth: Twice-daily brushing and once-daily flossing, along with regular dental checkups. Dentures require a bit more maintenance to ensure they are long-lasting and free of damage or decay. Dentures must be kept wet, and should be stored in a cleansing solution or water when not being worn. Dentures should be brushed daily to remove plaque and food, and so should your gums, tongue and palate prior to inserting your dentures in the morning. We will provide complete instructions for you during your visit.
How long will my dentures/implant-supported dentures last?
Dentures are long-lasting and can hold up to years of wear and tear; however, they will require occasional maintenance due to normal changes in your mouth and erosion. Implant-supported dentures can last a lifetime with good care and excellent oral hygiene. Regardless of the treatment you choose, it's always important to visit the dentist regularly to maintain your oral health.